KyotoKimono rentalKYO-TEMARI:HOME > Specialty
We particularly like to rent high-class 100% silk Shoken kimonos
Enjoy Kyoto sightseeing in an authentic kimono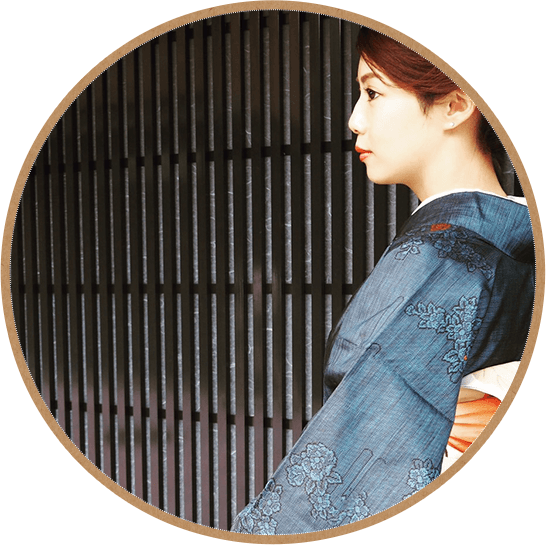 Even people in Kyoto, who have an expert eye for kimonos, say "It doesn't look like a rental kimono". This means our kimonos have been admired by residents of Kyoto who are familiar with kimonos.
Also, all our rental kimonos are one-of-a-kind items. All available items are, elegant and refined antique kimonos which we have carefully purchased one by one, brand kimonos, and ones made by artists. As for kimono obi (sash), the ones we have aren't half-width obi but Nagoya obi and Fukuro obi. We also have Furisode and Hakama for Seijinshiki and graduation ceremonies.
We hope you enjoy Kyoto sightseeing with our "kimonos which don't look like rental ones"
Particular in regard to "Shoken silk"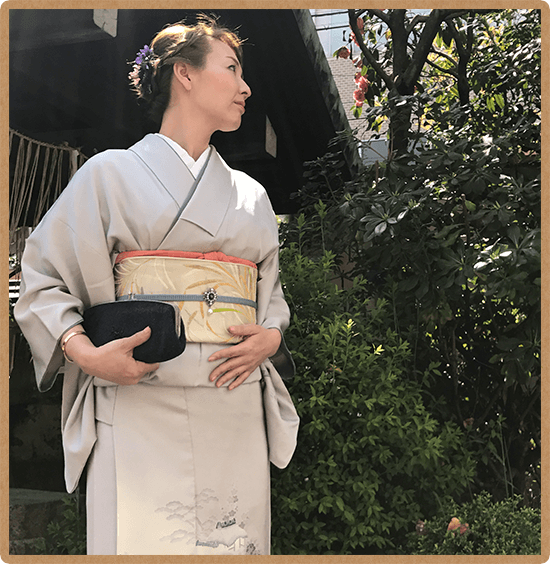 We particularly like to rent high-class 100% silk Shoken kimonos
When you have a chance to wear a kimono, we want you to have an experience of the authentic kimono, which has a shiny and luxurious appearance peculiar to Shoken silk and which has different tastes to the kimonos such as yukata made from synthetic fiber fabric.
There are about 300 different types of kimono which we have bought with a viewpoint of the adult woman, so not only young people but also women of your mother's generation will find one they like. Our customer's age range is quite wide being from 20 to 70 years old.
"All in one price" "One price only"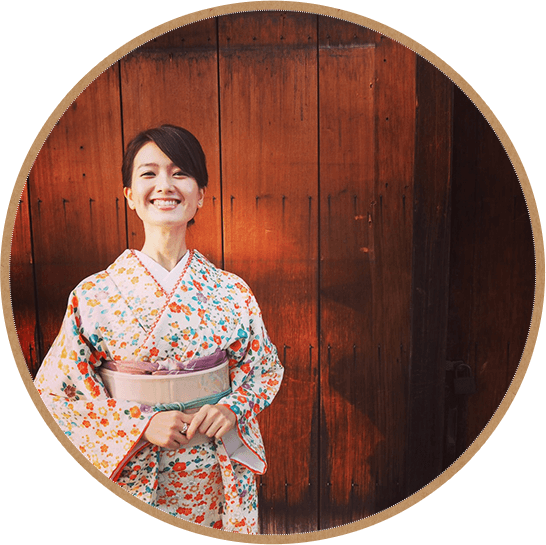 Our kimono rental price includes everything such as dressing fees. As we offer one price only, you can choose the one you like with peace of mind. We also have kimonos for men all at the same price, so having a date with your girlfriend or boyfriend while wearing a kimono will be a great idea. Also, small items such as sash clips, haneri, haori coats, and stoles etc, which are usually offered as options, are all free at our shop.
We offer a kimono which is suitable for your occasion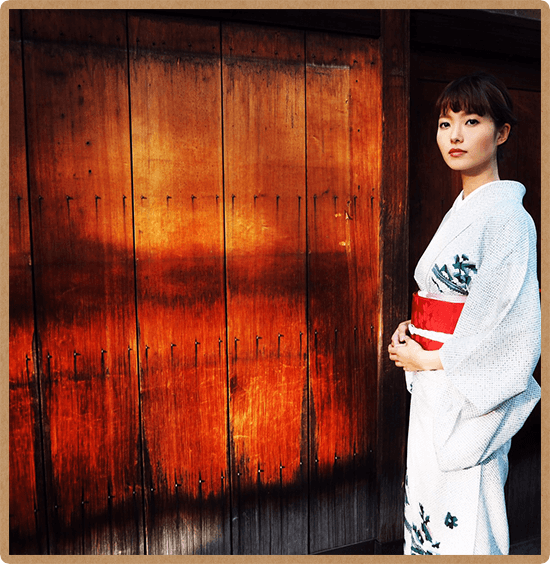 We have "Komon" "Tsukesage" "Houmon-gi (semi-formal kimono)" "Furisode".
We recommend a "Komon" for walking around the town, and "Tsukesage" "Houmon-gi" and "Furisode" for formal scenes.
"Komon" "Tsukesage" and "Houmon-gi" are all one price only (Extra charge is applied only for some of our Houmon-gi and Furisode). Why don't you take this opportunity to try out a kimono?
Spending a relaxing time in a "private space"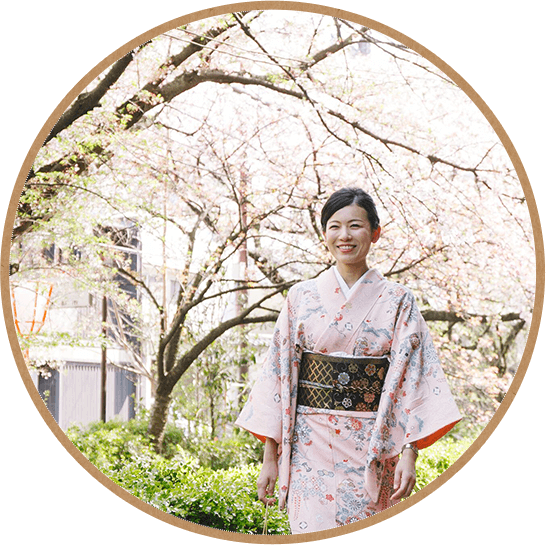 As we wish for our customers to be able to spend enough time to choose the kimono and dress up, we only take reservations for up to 3 groups per hour (except in peak season).
Bring your own kimono and using our dress up service only is also welcome (the price is the same).
We offer the service that only a "small shop" can do.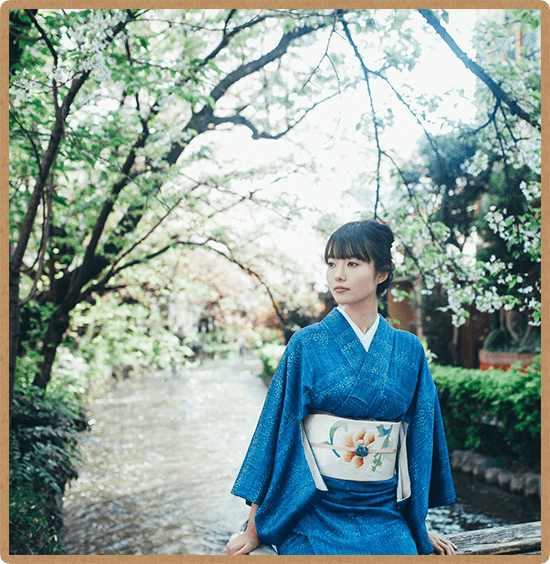 Our shop is small and privately owned by a resident of Kyoto. So, we will respond to our customer's request as much as possible.
Your large belongings such as suitcase etc can be left with us for free (except valuable items).
We also have a full range of Frisode and Hakama for Seijinshiki and graduation ceremonies. For the customers who want photography, we will introduce a photographer. If you have any other questions, please feel free to ask us.
Enjoy your town walk with a "comfortable kimono"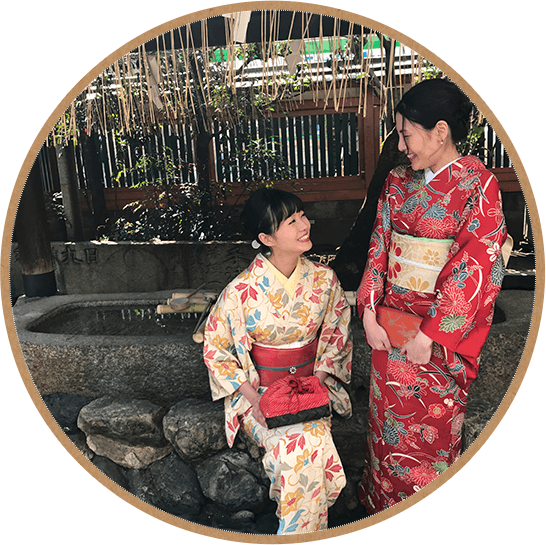 As we dress our customers up with a kimono to fit the individual body shape, many customers, who walked around the town for a whole day with kimono on, say "It wasn't tight at all!" Also, we do our best not to lose the shape when dressing up. Our Kitsukeshi (a person who dresses people in a kimono) has been trained on a daily basis so just relax and leave it all to us.