KyotoKimono rentalKYO-TEMARI:HOME > Price / Plan > Kimono rental
"Shoken silk kimono" one day rental plan
5,000yen(Tax included)This price includes dressing up fee as well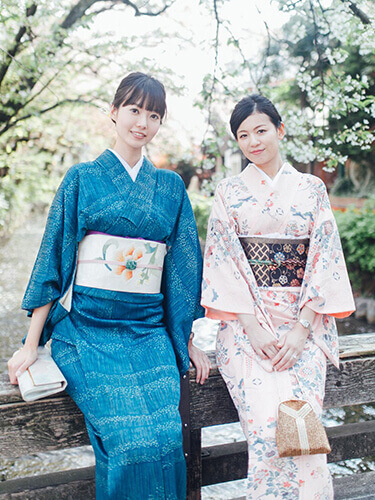 We rent a high-class 100% silk Shoken kimono at a price of 5,000yen (tax included) which includes dressing up.
All our rental kimonos are one-of-a-kind items. You can rent a kimono which you like by choosing from about 300 different types.
All available items are, elegant and refined antique kimonos which we have carefully purchased one by one, brand kimonos, and ones made by artists. As for kimono obi (sash), the ones we have aren't half-width obi but Nagoya obi and Fukuro obi.
We are the greatest in Kyoto in the quality of kimono and rental price.
Gallery
・5,000yen (tax included) for both men and women
・Kimono rental hours are basically 9am to 6:30pm (Please give us a call if you want to rent a kimono at a time outside the above mentioned hours)
・As there is no additional charge or options, you can choose a kimono you like with peace of mind.
・Our obi is not the half-width obi but Nagoya obi or Fukuro obi, which we tie in a taiko musubi knot).
・You can also rent haori coat, umbrella and obishime etc as you like.
・Please note that because Shoken silk is very delicate fabric, when it is raining there may a case where we recommend a dark color kimono such as black or navy etc, or a kimono we specially prepared (cotton or artificial silk rayon).
・If you wish to have a Kawari musubi knot (+ 1,000yen) or Furisode plan (15,000yen for Furisode + kawari musubi knot), please tell us at the time of making a reservation.
Because the Kawari musubi knot and Furisode plan requires longer dressing times than normal ones, there may be a case where you cannot have this if you make a request on the same day.
・Some of the Houmon-gi is 10,000yen for the rental.
・You can spend more time to choose your kimono if you arrive 10 minutes earlier than the time you reserved.
・For summer we have rental yukatas (4,000yen) other than kimonos.
・Please note that in case of loss, damage and severe stain etc, actual expenses will be charged to the customers.
・The price is the same for bringing your own kimono and using our dressing up service only.
"Shoken silk kimono" one day rental plan
5,000yen(Tax included)This price includes dressing up fee as well
Hair Set
1,000yen(Tax included)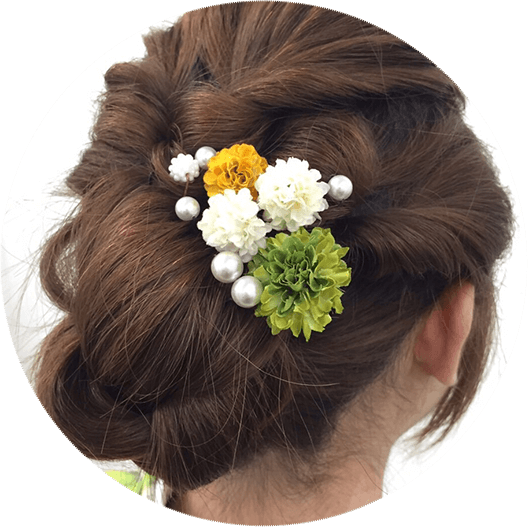 Hair accessories rental such as kanzashi etc are free of charge.
For the customers who want photography, we will introduce a photographer