"Shoken silk kimono" one day rental plan

5,000yen(Tax included)This price includes dressing up fee as well
We rent a high-class 100% silk Shoken kimono at a price of 5,000yen (tax included) which includes dressing up.
All our rental kimonos are one-of-a-kind items. You can rent a kimono which you like by choosing from about 300 different types.
All available items are, elegant and refined antique kimonos which we have carefully purchased one by one, brand kimonos, and ones made by artists. As for kimono obi (sash), the ones we have aren't half-width obi but Nagoya obi and Fukuro obi.
We are the greatest in Kyoto in the quality of kimono and rental price.
"Shoken silk kimono" one day rental plan
Photo Shoot Plans

4,000yen~(Tax included)
We offer a variety of photo shoot plans including studio photo shoots and on-location photo shoots.
The studio photo shoot plan will only take about 20 minutes after dressing in a kimono. You will receive your album when you return the kimono.
KYO-TEMARI's photo studio is right next to the dressing room, so you don't have to worry about your kimono coming loose after dressing up.
If you wish to have the photo shoot done, please be sure to let us know when making a reservation.

○ Fees will be 1.5 times for 4 or more people and double for 8 or more people.
○ Albums from 2,000yen.
○ Photo shot data will be in download format.
Yukata one day rental plan

4,000yen(Tax included)
Why don't you try something different to the usual yukata for this opportunity?
It can be worn as a summer kimono by adding a haneri (decorative collar). It will be great for the occasions such as having lunch or going shopping with your friend etc. At KYO-TEMARI, wide range of yukatas such as shibori and qntique etc are available, and all these are collected by the shop owner one by one.
Yukata one day rental plan
Hair Set 1,000

yen(Tax included)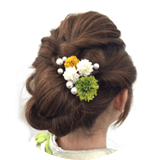 Hair accessories rental such as kanzashi etc are free of charge.
We particularly like to rent high-class 100% silk Shoken kimonos

Even people in Kyoto, who have an expert eye for kimonos, say "It doesn't look like a rental kimono".
This means our kimonos have been admired by residents of Kyoto who are familiar with kimonos.When you have a chance to wear a kimono, we want you to have an experience of the authentic kimono, which has a shiny and luxurious appearance peculiar to Shoken silk and which has different tastes to the kimonos such as yukata made from synthetic fiber fabric.
We have a wide range of kimonos to recommend for people such as;
"I don't like a kimono that looks like yukata"
"I don't want a kimono which looks just like a rental one"
"I have previously paid lots of extra charges for options"
"I couldn't take my time to choose one because there were too many people"
"We, a mother and daughter, will travel to Kyoto♪So we like to do sightseeing while wearing a kimono, but we are wondering if there is one suitable for my mother's generation"
"I don't like wearing a kimono because it makes me tired"
Rental Process
Easy online reservation via Internet and LINE. Dressing up will only take about 20 minutes, so you can spend enough time to enjoy walking around Kyoto.


We introduce our customer's photos with their kimono on.
As we dress our customers up with a kimono to fit the individual body shape,
many customers, who walked around the town for a whole day with kimono on, say "It wasn't tight at all!"
About our shop / Access
Our shop is located in the center of Kyoto's sightseeing spots, 3 minutes walk from Hankyu Kawaramachi Station near Gion.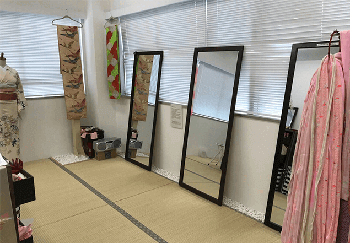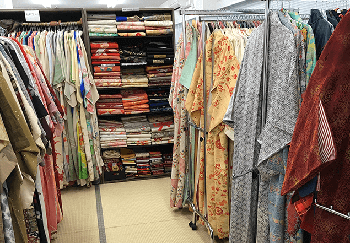 Address

Teramachi Ayanokoji Bldg.3F, 586 Teiammaenocho, Shimogyo-ku Kyoto-shi, Kyoto, 600-8031, Japan

Telephone number

050-5274-8956

Business hours

9:00AM ‒ 7:00PM

Closing day

Open every day

Access

•3 minutes walk from Hankyu Kyoto Line [Hankyu Kawaramachi Station], or 10 minutes walk from [Karasuma Station]
•10 minutes walk from Kyoto City Subway [Shijo Station]
•7 minutes walk from Keihan Main Line Gion [Shijo Station]